HOLORER-it! reconstructs beautiful holographic 3D images.
Ideal lighting condition of a Hologram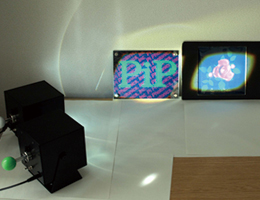 Large area
High brightness
High directivity
low heating
low stimulation
Traditionally, halogen lamp has been used for hologram reconstruction. Infrared rays and stimulation of ultraviolet rays from halogen lamp are not good to hologram. HOLORER-it! can reproduce ideal LED lighting which has several characteristics (large area, high brightness, high directivity, low heating and low stimulation) from the compact cubic chassis. Long distance spot lighting can be possible by adjusting lighting area. Long battery use by lower power consumption and using light aluminum body make it possible to use the device at any space. Please realize the clear reproduction of your hologram with HOLORER-it! LED lighting.