gIntegrationh is our sense of values. We will integrate human and social networking and contribute to the earth by producing the products with human-friendly optical technology. We contribute the integration of seeds and needs in the society by producing state-of-the-art optical technology from Hamamatsu known as industrial and venture town. Our vision is to aim at creating optical industry with optical technology by forming new market, and new culture to humankind in the future.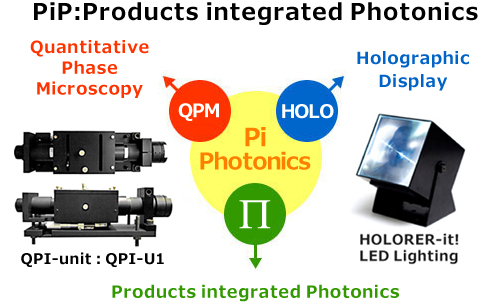 Company Name in origin
The name of the company "Pi" is Greek in origin "ƒÎ, ƒ®, pi". The small letter "ƒÎ" is the mathematical symbol of the ratio of the circumference of a circle to its diameter. Its number continues infinitely, meaning company lasts forever. The capital letter "ƒ®" signifies the product in a sequence of numbers. Mathematical symbol "ƒ°" signifies the sum in a sequence of numbers. In this way, "Pi" of "Pi photonics Inc." means the "integration" which adds up various elements.

What's PiP?
PiP is the abbreviation for Pi Photonics, Inc.
Each alphabet has its meaning.
P : Products@
i : integrated@
P : Photonics
PiP : Products integrated Photonics